I have not written for a while. We have been making various arrangements and movements North over the last two weeks. The weather off of
Pt. Conception
has not been good. A low has been sitting in the area for a week or so.
We first moved the boat from San Diego to Dana Point. This was followed by a trip up to Berkeley. I was not feeling very well, the weather north of Santa Barbara was bad and Corine had to start a job. Yes, a job.
Last Tuesday, I went back to the boat and got it ready. I had a captain join me on Wednesday and we headed north. We were using 3 and 4 hour watches and made it to Santa Barbara by Thursday morning. That leg of the trip was so, so. It was mostly typical Southern California weather, 0 to 10 knots. We saw a couple of
Blue whales
and a few dolphins. Off of Newport Beach, a very large fish jumped a few feet from the boat. We think it was an
Ocean Sunfish
.
At one point off of
Pacific Palisades
, we passed very close to a
Cal 20
, sailing wing on wing down wind crewed by four people wearing bathing suits. They seemed like they were on a different ocean.
There was a mixed swell when we started crossing the mouth of Santa Monica Bay. Some waves from the south, others from the northwest. The wind came up to 17 knots or so and things got "lumpy". Nothing bad at all, just sloppy. We had been able to make 5.5 and six knots on smooth water, but now we were down to 3. With the wind out of the northwest, we were just motoring. The wind dropped off at 2 or 3 am and we got back to 5.5 knots.
The sky started lightening with a light fog as I dodged the boat around the last oil rig off of
Ventura
. The racing boat,
Pendragon
passed close by on it's way to Santa Barbara. It was making about a knot more than us, motoring under bare poles. This was the first indication of some trouble we were to have the next day.
At about 8:30am Thursday, we pulled up to the fuel dock in Santa Barbara. There were
midsize
racing boats everywhere. We topped up the tanks, checked weather and headed back out. The weather did not look great.
NWS
called for 15 to 25 knots with 6 to 9 foot combined seas. The big problem was the the swell was from two directions and had a period of 8 seconds. On the flip side of the equation, the latest live buoy data showed only 7 knots wind off of
Pt.

Arguello
. So we went for it.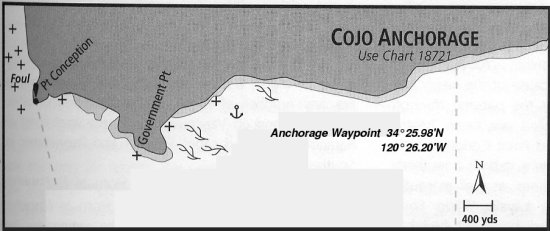 Point Conception is actually part of a large headland that is defined by three points. Government Point, Point Conception and Point
Arguello
. It is about 30 miles from Santa Barbara to Government Point.
Government Point
"shelters" the Coho Anchorage and is the jumping off point for rounding Conception.
I had been sleeping and came on deck around 5pm as we approached Government Point. I was awoken by an increasing bounce in the bunk. Captain Dave reminded me of what
Tristan Jones
used to say when asked how he had been, "Up and down". There was some swell topped by 3 or 4 foot wind waves. The waves were only about 20 feet apart. The boat's speed was wavering between 1.6 and 3 knots. We debated the pros and cons for a few minutes. During that time the wind rose from 18 to about 23 knots and it looked like it would go higher. The tops of the waves started to blow off. We made very slow progress toward Coho, which did not look like it was sheltered much at all. We thought about anchoring and trying to round at night. I was concerned that any night window would not be big enough to make good progress. With 30 knots called for on Friday and Saturday. I made the executive decision and chickened out. We would run back to Santa Barbara, losing a day and sixty miles.
I raised the
staysail
after we jibed. The boat immediately started surfing at 7 and sometimes 8 knots. These were very similar to the conditions we had last fall in this channel. With the main up, the boat had surfed to 11.8 knots. This is definitely not weather to beat into.
We made it back to Santa Barbara about 11pm. Here, we faced our second big rejection of the day. The harbor patrol told us they had no slips at all due to the number of boats in town for the
King Harbor Race
. This is where
Pendragon
had been headed. As alternatives, the harbor patrol suggested going to
Ventura
(30 miles) or anchoring in the
road stead
on the other side of
Stearns

Wharf
.
Around midnight, we were anchored on the edge of a field of largely unlighted boats. Fun, fun, fun.
At ten in the morning on Friday, boats started streaming out of the harbor. I counted about 45, including
Profligate
, the
Latitude 38
cat. This created some space in the harbor and we were allowed to dock at the same slip we had last fall.
The captain had another commitment and won't be back for a week or so. As of Sunday, weather off of Conception has not improved much. There has been a dominant high for a couple weeks in the eastern Pacific. This is squeezing against a couple lows that are inland or in our case in our way. Apparently, weather a hundred miles north has been pretty calm.
I'm hanging on the boat. It is foggy in the morning, and gorgeous in the evening. We are thinking of partaking in the
Old Spanish Days
festival next weekend. I've wanted to go to the fiesta, ever since I saw
Cutter's Way
, the 1981 Jeff Bridges' movie.
I will probably let the captain and crew bring the boat up. They are always pressing forward and may make bolder decisions than me. I am not used to being on a schedule and moving in all weather. I made this trip on a friend's boat two years ago. He had waited two weeks or more in Santa Barbara for a break.