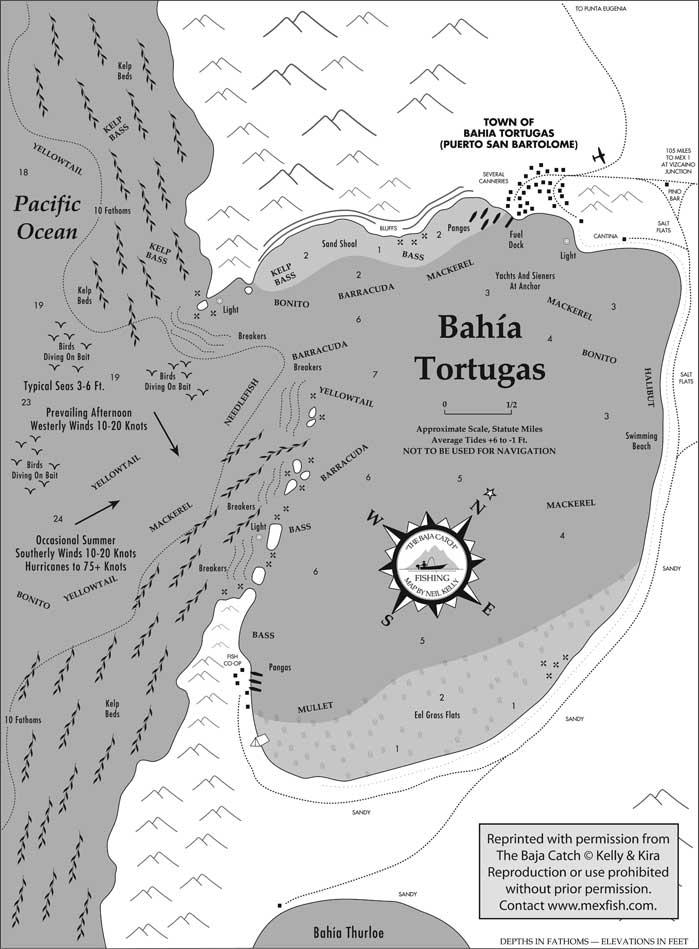 When we made our turn for Mexico, we had our choice of destinations. We could beat back at 10 degrees to Ensenada for about 370 miles, we could head east to Turtle Bay about 350 miles on a reach or we could fall off much further south to
Cabo San Lucas
. We decided to take the middle road to Turtle Bay (
Bahia San Bartolome
).
This was a fairly uneventful trip. We stumbled into a high pressure system with glassy seas and less than 2 knots of wind. This caused about of day of motoring.
By the time we were approaching Turtle Bay, we were on the other side of the high and the wind picked back up to 15 to 18 knots. We anchored in Turtle Bay on Saturday the 21st at about 11 am. There were about a dozen sailboats anchored, so we picked a spot at the far fringe away from shore. Turtle Bay is not a point of entry, so we could not check in or go ashore.
We were greeted by Ernesto who was piloting a
panga
marked as
Enrique's Fuel and Taxi
. Ernesto agreed to come and refill our jerry cans with diesel the next morning. We promptly went below and fell asleep.
That night, the wind came up to 25 knots or higher as it blew across the peninsula. We were awoken about 12:30am by a loud bang. Corine looked out and saw a 20 foot panga drifting by the beam after it had bounced off our anchor chain.
By the next afternoon we had taken on about 20 gallons of diesel and had re-secured all of the gear loosened by the ocean passage. The high had caught up with us dropping the wind below 5 knots. With little wind, the swell would be down. It looked like the perfect time to start motoring north on our half Baja Bash.
One must also point out that Turtle Bay is the only all weather anchorage for a few hundred miles either north or south. It is also the last place you can really count on diesel before Ensenada.
to be continued....