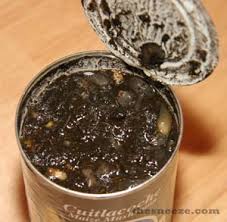 I tried something new today.
Cuitlacoche
was in a can near the jalapenos at the local store in Ensenada. The can contained contained Cuitlacoche, jalapenos and green onions. It came out of the can very dark like squid ink. It had a mild, nice flavor and was not spicy at all.
After finishing the can, I googled it. It turns out that it is
Ustilago maydis
or
corn smut
, a rather ugly fungus that grows on ears of corn. I had not heard of the smut since Ag school.
The
James Beard Foundation
calls Cuitlacoche
Mexican Truffle
and has held special dinners with the fungus as the centerpiece. It is also known as
Huitlacoche and is used as a filling in tamales and tacos.