So, you might ask, what have we been up to on
Maitreya
? We had filled our tanks and went for a test sail with thoughts of leaving about ten days ago. Corine then got sick with a pretty bad cold. A few days later, I succumbed to the ailment as well. Corine is still not back to normal, so I might have a ways to go. It is suspected that this is the
Berkeley Cold
strain brought back from my poker outing the middle of last month.
In the mean time, I have been blogging about random stuff not really related to us. We have been watching the stock market go down, doing a lot of reading and even more sleeping.
I also tried my hand at a little
marlinespike seamanship
. I made these whiter than white
thump mats
for our
staysail
lead blocks. These will hopefully cut down on the noise when the sail flogs, not to mention keeping the blocks from removing divots from the cabin top. I took some direction on the project from Hervey Garrett Smith's
The Arts of the Sailor
. If you are interested in this type of rope work, I strongly suggest this book.
The mat is made from a flattened
Turks Head knot
.
I am hoping they will look a little more salty when they weather like the ones below. Currently, mine look like they belong in a hospital.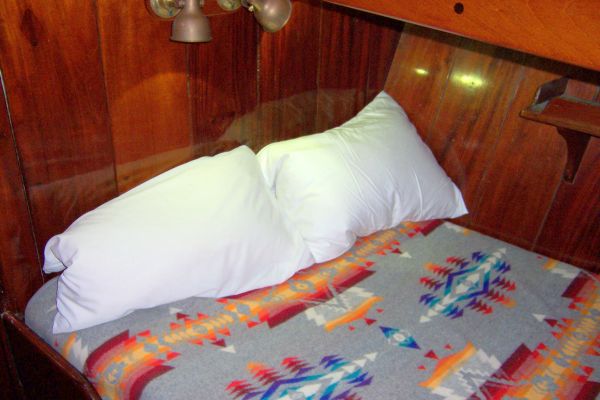 The weather towards Hawaii has been looking pretty good. We are thinking of heading west once we have clear heads again.